Fiji Airways this week officially became Oneworld Connect's first partner. As a new partner it unlocks an array of benefits for Oneworld members. Oneworld Connect is intended to be an option for smaller airlines to join the alliance without having to pay the full membership costs due to the large costs associated with joining an alliance.
So what does this mean for those as part of the Oneworld program?
Prior to joining Oneworld Connect, priority boarding on Fiji Airways flights was reserved only for business class passengers and the airline's Tabua Club members. The change will now priority boarding benefits expanded to all Oneworld members across all airports when travelling with Fiji Airways.
In addition customers from American, British Airways, Cathay Pacific and Qantas when flying on Fiji Airways will have the ability to earn and redeem miles (including earning status miles). The benefits will also be reciprocated for Fiji Airways Tabua frequent flyer members when flying on American, British Airways, Cathay Pacific and Qantas.
However unlike other Oneworld partners, Connect doesn't offer Oneworld members access to FJ lounges or Oneworld when flying under an FJ coded flight. This means that unless you are flying FJ Business Class, you will not receive lounge access no matter your status. This is quite disappointing considering that Oneworld benefits like lounge access are highly regarded and for many are a main drawcard to being with an alliance.
If that isn't disappointing, as you could tell not all Oneworld members are treated the same. Below is a chart breaking down the benefits for each airline.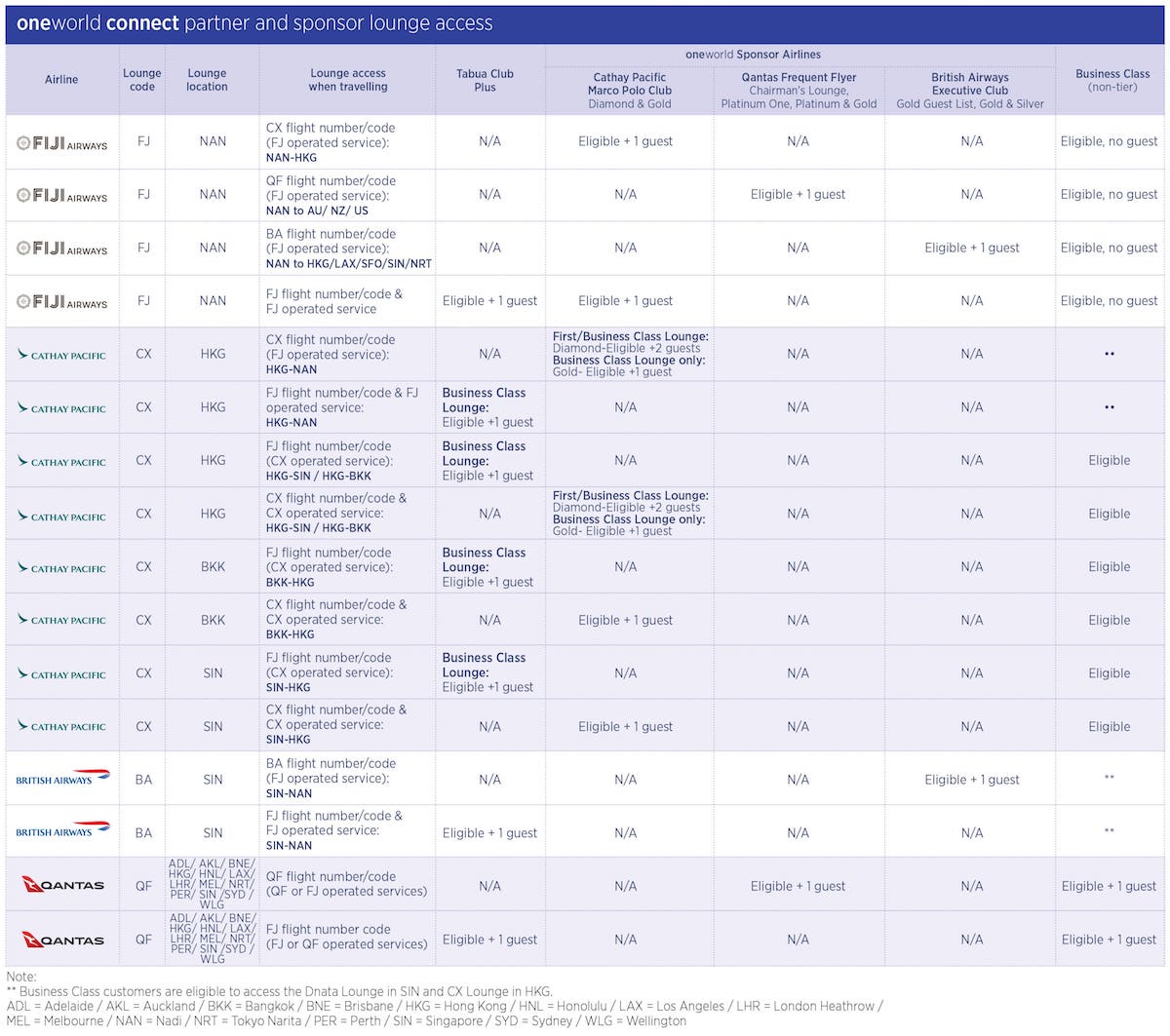 In my view the new addition of FJ is better than no addition with some good benefits there in terms of points and boarding. However with some airlines treated more preferably than others as part of this new deal, I feel this has added a layer of confusion in terms of who is eligible for what. Additionally a lack of airport lounge access is disappointing and one can only hope will be reviewed soon. Time will tell if the Connect concept lasts the distance.